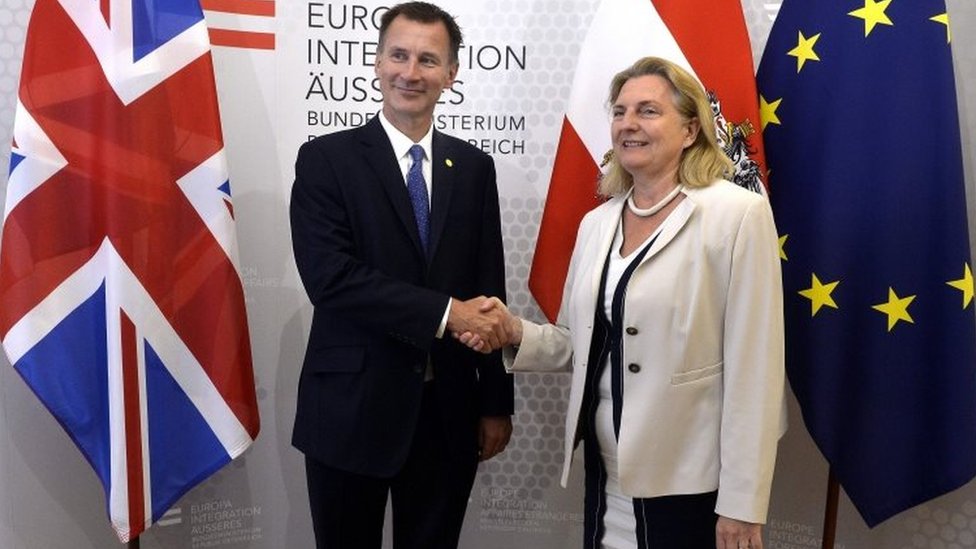 The government's preparations for a no-deal Brexit is "project reality" not "project fear", Foreign Secretary Jeremy Hunt has said.
Speaking in Austria, Mr Hunt said: "We have to be very honest with ourselves about the choices that we face and we need to have these frank discussions".
Mr Hunt repeated a warning that "as things stand at the moment, we are heading for no deal by accident".
He was speaking after he met his Austrian counterpart Karin Kneissl.
Ms Kneissl said that they were "prepared for the different possible scenarios".
The UK is due to leave the EU on 29 March 2019, but the two sides have yet to agree on how their future relationship will work.
Key differences between the UK and the EU remain, more than a year after negotiations started.
Mr Hunt said no deal would be a "huge geo-strategic mistake" and would "have a profound impact on the relations between Britain and the EU countries for a generation".
He added: "We don't think this is in anyone's interests."
Asked by the BBC if this was "project fear part two", Mr Hunt said: "This is not project fear, this is project reality."
"We have to make a decision on Britain's future relationship with the EU by the end of this year and we have to be very honest with ourselves about the choices that we face – and we need to have these frank discussions because time is very, very short," Mr Hunt said.
"We are clear that what we want is a friendship that means we can stand as friends with EU countries – just as the friendship between Australia and New Zealand, between Austria and Switzerland.
"Britain will prosper and succeed whatever the outcomes of these talks because we are that kind of country."
He said it was important to point out that there were "very, very serious consequences" for all sides of the argument "if we get this judgement wrong".
The EU and the UK want a deal in place by October.
Government ministers say they want to reach a deal with the EU covering issues like trade and border checks, but are also making contingency plans to prepare for leaving with no agreement in place.
Last week the EU's chief negotiator, Michel Barnier, rejected a key part of Mrs May's proposals, which would involve the UK collecting customs duties on its behalf.